The editorial below has a link to a syllabus/course in "Understanding Islamophobia in America" which is a complete waste of time in my opinion. By this point in time if the reader has little or no knowledge of Islam, I provided this brief introduction:
Islam ~ Dictionary.com
noun
1. the religious faith of Muslims, based on the words and religious system founded by the prophet Muhammad and taught by the Koran, the basic principle of which is absolute submission to a unique and personal god, Allah.
2. the whole body of Muslim believers, their civilization, and the countries in which theirs is the dominant religion.
Islam ~ Winston Churchill
That religion, which above all others was founded and propagated by the sword—the tenets and principles of which are instinct with incentives to slaughter…
How dreadful are the curses which Mohammedanism lays on its votaries! Besides the fanatical frenzy, which is as dangerous in a man as hydrophobia in a dog, there is this fearful fatalistic apathy.
The effects are apparent in many countries. Improvident habits, slovenly systems of agriculture, sluggish methods of commerce, and insecurity of property exist wherever the followers of the Prophet rule or live. A degraded sensualism deprives this life of its grace and refinement; the next of its dignity and sanctity.
Islam ~ Pakistani President Musharraf (born and raised a Muslim but college educated in the west)
Islamic countries will remain backward unless they concentrate more on scientific and technological development…the time had come for Islamic nations to take part in collective self-criticism.

Once such an assessment is made, it would not be difficult to realize that the entire Islamic world was far behind the developed world…the unhealthiest, the Muslim Ummah, or the Islamic world was presently living in darkness.

Today we are the poorest, the most illiterate, the most backward, the unhealthiest, the most un-enlightened, the most deprived, and the weakest of the entire human race.
Before Islam made them stupid, before Islam hobbled their minds, before Islam stifled their creativity, Arabs were inquisitive, smart, inventive, clever fellows who made great contributions to civilization. That is to say, they were just like their Semite cousins the Jews.
The photo edit above was provided to drive home a point...provided by Storm'n Norm'n
After all the terrorist attacks (bombings, beheadings, burning alive, and whatever else you may have heard of) committed by Muslims (AKA Islamists) for no other reason than their victims are not
See Video Below
Muslims, you should have a fear...and if you want to call it Islamophopbia then be my guest. Further, there should be no separation from so-called radicalized Muslims and Muslims; it's Islam any way you look at it! It is written in their books, their Quran, in their charters, and whatever else they subscribe to... all Muslims believe that they should dominate the world and if that's not enough to fear then you may have a problem...and I don't have to be a doctor to diagnose it.
Meanwhile, whether you know it or not, Islam (rather it's countries like Saudia Arabia) is paying for our destruction by donating large sums of money to colleges and universities throughout the country for the sole purpose of indoctrinating professors who in turn will pass their ideology onto their students. One such university is the subject of the following editorial. When you have finished reading I sincerely hope you come down with the same malady that I contracted; Georgetownophobia! They scare the you-know-what out of me! ~ Norman E. Hooben
"Ikhwan-101" – Georgetown Profs Team Up With Suspected MB Front
by Abha Shankar ~ IPT News
Two of Georgetown University's top faculty in religion are partnering with a private Virginia think
tank long suspected of serving as a front for the Muslim Brotherhood.
The think tank in question, the
International Institute of Islamic Thought (IIIT)
, twice has been the subject of law enforcement investigations, once during the 1980s and again starting in 2003. Its senior leaders were
listed
among "members and leaders of the IKHWAN [Muslim Brotherhood]" in the United States in
records
obtained by the IPT from a
closed FBI investigation
through a Freedom of Information Act request.
Georgetown professors
John Voll
and
Jonathan Brown
each are listed as faculty members at the
Fairfax Institute
, an IIIT school. Voll and Brown also
occupy senior faculty positions
at Georgetown's
Prince Alwaleed bin Talal Center for Muslim-Christian Understanding (ACMCU)
.
The center
received
a $20 million gift from Saudi Prince Alwaleed bin Talal in 2005.
The Fairfax Institute offers certificates in
Imam and Muslim Community Leadership
and in
Islamic Thought
. That may sound benign on its face, but the Institute's parent, the IIIT, long has touted the "Islamization of Knowledge," a program which makes Islam the key to solving society's ills.
In implementation plans, IIIT
co-founder Ismail al-Faruqi
made it clear his institute's outreach was not about teaching Westerners about Islam. Rather, its purpose is to infuse superior Islamic principles to add revelation to Western academic pursuits which are based solely on "reasoning."
While the Muslim community in the undeveloped world "is in many respects backward," Faruqi
wrote
in 1982, "...in the respect of possessing the truth, the ideological statement of it which is most conducive to religious, ethical, and material prosperity at the same time, the ummah is second to none. Because of Islam, the ummah alone possesses the vision required for the felicity of humankind, for history to be as Allah (SWT) has desired it to be."
During a 2010 lecture, Voll
described
Faruqi, a
Muslim Brotherhood luminary
who was murdered in 1986, as "a good case of the modern intellectual who is a believer and provides a good example for thinking about what it means to be a 'believing intellectual' in the modern era."
ACMCU founding director John Esposito
was a student of Faruqi's at Temple University.
IIIT, located about 22 miles from Washington, D.C. in Herndon, Va., also was investigated for possible terror financing. A 2003 search warrant affidavit alleged that the think tank was
part
of a network of up to 100 non-profit and for-profit organizations, inter-related through corporate officers and holding companies that
facilitated
terrorist funding. Financial records reviewed by law enforcement officials exhibited "a convoluted web of multiple transactions between related corporations and charities that made it virtually impossible for federal investigators to ascertain where the money ... ultimately went."
Some of the money that was clearly traceable included direct payments to a Florida think-tank which then was home to at least four members of the
Palestinian Islamic Jihad
's
Shura Council
, in effect, its governing board. One of those directors,
Ramadan Shallah
, has led the terrorist group since late 1995.
Sami Al-Arian
, a former University of South Florida professor who created the
World and Islam Studies Enterprise
(WISE), self-identified as the PIJ board's secretary. Al-Arian also ran a charity called the Islamic Committee for Palestine (ICP) which was
described as
"the active arm of the Islamic Jihad Movement Palestine" but was called ICP in America "for security reasons." ICP rallies
routinely
featured PIJ spiritual leader
Abdel Aziz Odeh
and PIJ imagery.
IIIT President Taha Jaber Al-Alwani "spoke at ICP conferences with Al-Arian, Shallah, Sheik Odeh (spiritual leader and co-founder of PIJ) and Sheik Rahman (the 'Blind Sheik' convicted of conspiracy to blow up New York tunnels and the United Nations in New York in October 1995). Inasmuch as ICP conferences were, in essence, PIJ conferences, Alwani has long been a supporter of PIJ," the
2003 affidavit
said.
In a
1992 letter
to Al-Arian, Al-Alwani referred to WISE as "a part of us and an extension of us." Records also
list Al-Alwani
as chairman of the WISE board of trustees.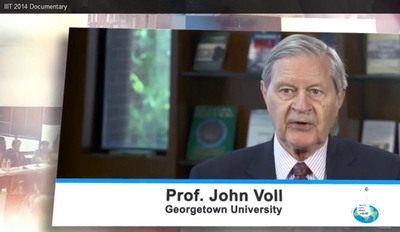 In a 2014 IIIT promotional video, Voll says the institute helps American
academics "have a more global view of Islam."
A look at past statements by Voll and Brown shows their consistent pattern of embracing and defending Islamists, including Al-Arian, who was
deported
from the United States a year ago and is believed to be in Turkey.
A 2007
article
Voll co-authored with Esposito described Al-Arian as "a proud and committed American and Palestinian professor and activist" and claimed that both Al-Arian and the American justice system has become "casualties of the erosion of civil liberties post-9/11."
Brown, likewise, has played down the threat from radical Islamists, and has alleged rising Islamophobia to have led to wrongful convictions in a number of federally-prosecuted terrorism cases.
Muslims care about a lot of issues, Brown
said
last May at a conference organized by the Islamist groups
Muslim American Society
and the
Islamic Circle of North America
. That includes events in Kashmir, the Palestinian cause and more. "Or whether it's here in America, whether it's Muslims targeted for entrapment by the Justice Department or whether it's Muslims who are convicted of crimes that they didn't commit because the justice system is biased against them. Because racism and stereotypes against Muslims are allowed to influence the outcome of trials."
This, he claimed, has a chilling effect on free speech.
"It's scary to get up and speak out about Palestine, it's scary to get up and speak about how Muslims who are accused of terrorism might not be guilty and we need to give them the benefit of the doubt."
In a July 2011
interview
with
The Egyptian Gazette,
Brown dismissed any danger from Islamists gaining power in the Egyptian elections following the overthrow of President Hosni Mubarak: "I do not think life in Egypt will dramatically change if the president or ruling party are self-proclaimed 'Islamists.' Egypt is already a very Islamic society: no-one drinks in the street, people dress conservatively, even the financial system has to justify its operations in terms of Islam."
"The country is too important to write off and this is not 1979," he added. "The 'Islamic threat' so often touted by Western pundits has been undermined by factors like AK Party rule in Turkey, and it will be less frightening when people see that Egypt is not much different from before."
But once in power, the Brotherhood moved to amend the Constitution to entrench its hold on government, and
violently suppressed
public protests. Brown was right to distinguish Egypt from Iran in 1979, though. Egypt, unlike the Islamic Republic, still had an independent military which forced the Islamists from power after
spontaneous street demonstrations
attracted millions of people demanding change.
Voll and Brown already enjoy ample interaction with Islamists through their Georgetown faculty posts.
The ACMCU had to
postpone
a program on "Egypt and the Struggle for Democracy" in the fall of 2013, after it was
revealed
that the only Coptic Christian panelist invited was a member of Egypt's Nazi Party.
At a 2012
IamY (Inspiring American Muslim Youth)
convention, Brown claimed Muslims were falsely implicated in terrorist cases and
blamed
Islamophobia for this. As an example, he cited the
case
of a Staten Island man who was "tried for including the
Hizballah
channel in a cable package he's offering." The Staten Island man, who Brown claimed was "not even doing anything...just offering a cable channel," in fact
pleaded guilty
to providing support to the terrorist group Hizballah and was sentenced to 5½ years in prison.
Brown further asserted that al-Qaida operative
Tarek Mehanna
was convicted "because he simply put up on his website some al-Qaida videos with translations." Mehanna was
sentenced
to 17½ years in prison in 2012 on terrorism-related charges that included travel to the Middle East to obtain military-type training at a terrorist camp to prepare for jihad against U.S. interests, including American and allied troops stationed in Iraq.
He also criticized the
long prison sentences
meted out to several senior officials tied to the
Holy Land Foundation
for funneling millions of dollars to the
U.S.-designated
terrorist group Hamas: "You have people now, people who ran the Holy Land Foundation charity organization in this country in prison for 60-80 years. Underground, for what? Feeding orphans?" In 2008 a federal jury found all defendants in the trial
guilty
on all counts of helping finance Hamas.
Brown's boss at Georgetown University, John Esposito,
testified
as an expert witness for the defense.
In comments provided to the IPT,
Jeffrey Bale
, an expert on violent political and religious extremism at the Middlebury Institute of International Studies at Monterey (MIIS), California, expressed concern at "the affiliation of Professors Voll and Brown with a school linked to the IIIT, a well-known component of the Muslim Brotherhood network in the U.S."
"Both students and other observers who recognize the essentially anti-democratic agendas of such Islamist groups should be concerned about this formal affiliation with the Fairfax Institute because it is another indicator of the pro-Islamist biases of these particular academics," Bale said.
Despite its known radical ties, IIIT continues to operate ostensibly as a legitimate academic institution that
seeks
to "bridge the intellectual divide between the Islamic tradition and Western civilization" through various funding and outreach programs with mainstream American universities and colleges and government-funded institutions.
In 2005, in line with its funding of WISE at USF in the 1990s, the Virginia think tank
offered
to endow a chair in Islamic Studies at the University of Central Florida outside Orlando. IIIT also made a
$1.5 million grant
to George Mason University in 2008 to help expand its Islamic studies program.
IIIT tax records list similar grants, including $25,000 to
Georgetown University
in 2010; $597,000 to
Nazareth College
in Rochester, N.Y. between 2008-2012 as well as an additional
$500,000 gift
for Nazareth to fund the IIIT Chair of Interfaith Studies; $25,000 to
Clarion University Foundation
in 2009; $5,000 to
Binghamton University
(The State University of New York) in 2009; and $10,000 to the
Eastern Mennonite University
in 2010.
In addition, IIIT
signed
a memorandum of agreement with Shenandoah University in Winchester, Va., to promote academic exchanges that included
hosting a program
on Islam in collaboration with the radical
Muslim Student Association
and Student Life's Intercultural Programs at Shenandoah University.
Not every university has taken IIIT's money, however. In 2008, Temple University – where Faruqi once taught Esposito –
refused
$1.5 million in funding from IIIT for a chair in Islamic studies after concerns were raised about IIIT's alleged ties to terrorist organizations.
In addition to Georgetown professors serving on the faculty of the Fairfax Institute, the IPT investigation found that the Institute recently
offered a course
taught by instructors from Georgetown University's The Bridge Initiative titled, "Understanding Islamophobia in America."
"Students will learn about the history of the term 'Islamophobia' and its earliest manifestations; its parallels with similar prejudices that have affected other groups through time; the primary mechanisms that drive Islamophobia in the United States; its emergence in both liberal and conservative discourse; its manifestations in mainstream and social media; and creative ways to counter it," a
course syllabus posted
on the institute's website reads.
It comes as little surprise that the
Initiative's project director
is John Esposito.
_______________________________________