Click on picture to enlarge.
"In a job that requires inscrutable objectivity, Mr. ElBaradei has never tried very hard to contain his prejudices. The world is better off with him retired."
ElBaradei says nuclear Israel number one threat to Mideast
(And another joke!)


Sun, 04 Oct 2009 20:28 EDT
Xinhua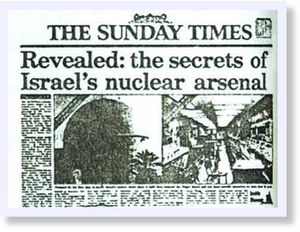 Director General of the International Atomic Energy Agency (IAEA) Mohamed ElBaradei said Sunday that "Israel is number one threat to Middle East" with its nuclear arms, the official IRNA news agency reported.

At a joint press conference with Iran's Atomic Energy Organization chief Ali Akbar Salehi in Tehran, ElBaradei brought Israel under spotlight and said that the Tel Aviv regime has refused to allow inspections into its nuclear installations for 30 years, the report said.

"Israel is the number one threat to the Middle East given the nuclear arms it possesses," ElBaradei was quoted as saying.

Israel is widely assumed to have nuclear capabilities, although it refuses to confirm or deny the allegation.

"This (possession of nuclear arms) was the cause for some proper measures to gain access to its (Israel's) power plants ... and the U.S. president has done some positive measures for the inspections to happen," said ElBaradei.

ElBaradei arrived in Iran Saturday for talks with Iranian officials over Tehran's nuclear program.

Leaders of the United States, France and Britain have condemned Iran's alleged deception to the international community involving covert activities in its new underground nuclear site.

Last month, Iran confirmed that it is building a new nuclear fuel enrichment plant near its northwestern city of Qom. In reaction, the IAEA asked Tehran to provide detailed information and access to the new nuclear facility as soon as possible.

On Sunday, ElBaradei said the UN nuclear watchdog would inspect Iran's new uranium plant near Qom on Oct. 25.
I found the above story somewhat contradictory because here you have ElBaradei making excuses for the Iranians

(see 2nd question/answer below)

:
June 09, 2009
El Baradei: Iranians are not "fanatics"
I recommend reading the June 1st Newsweek interview with El Baradei
Q: Had the Bush administration been more flexible, do you think it could have had a deal to freeze the Iranian enrichment program in its experimental phases?

El Baradei: There is no way you are able to deny them the knowledge. But if they do not have the industrial capacity, they do not have weapons. It is as simple as that. I have seen the Iranians ready to accept putting a cap on their enrichment [program] in terms of tens of centrifuges, and then in terms of hundreds of centrifuges. But nobody even tried to engage them on these offers. Now Iran has 5,000 centrifuges. The line was, "Iran will buckle under pressure." But this issue has become so ingrained in the Iranian soul as a matter of national pride.

...

Q: You focus on actual nuclear material. But the Americans have supplied the IAEA with the documents in question. The Iranians insist they are fake and refuse to talk about them.


El Baradei: A lot is in documents which we cannot share with the Iranians because of the need to protect sources and methods. Iran says, how can I tell you if it is fake or authentic if I am not getting a copy? So in many ways it's like a merry-go-round.
And who was
threatening to blow Israel off the map?
I like the following headline a little better:
National Post
editorial board:
ElBaradei won't be missed
(He sure won't be!)
Mohamed ElBaradei is stepping down at the end of the year as head of the United Nations' International Atomic Energy Agency (IAEA), and not a moment too soon. Mr. ElBaradei may have been awarded a Nobel peace prize for his work on nuclear non-proliferation, but only an organization as politically correct and naive as the Nobel committee could think his bias and blind-eye-turning has made the world safer from nuclear war.
In Tehran over the weekend, the Egyptian-born lawyer held a joint news conference with the head of Iran's Atomic Energy Organization, Ali Akbar Salehi, at which he proclaimed that Israel's atomic weapons are the "number one threat to the Middle East."
Just what was the basis for Mr. ElBaradei's preposterous claim? In 30 years, Israel has never used or even threatened to use its nuclear arsenal. Still, Mr. ElBaradei seems to feel the Jewish state is a greater risk to world peace than Tehran because Israel has refused UN inspectors access to its nuclear facilities, whereas Iran has permitted some entre, however sporadic.
Never mind that until last week Iran had for years hidden the existence of a second nuclear-materials processing plant from the IAEA and the world. Forget that some Iranian leaders have promised to use a nuclear bomb against Israel and the West the moment their country acquires one. (Current President Mahmoud Ahmadinejad has infamously vowed to wipe Israel "off the map.") Apparently, the yardstick against which the IAEA estimates a threat to peace is not the likelihood of a nation nuking its enemies, but rather the extent to which one pretends to co-operate with the agency's toothless inspections.
This is the same international bureaucrat who late last year said he favoured a "grand bargain" between the West and Iran that would see the West grant the Islamic Republic "the power, the prestige, the influence" it lusts after in return, not for the dismantling of Iran's nuclear program, but merely a suspension of its bomb-making quest a few meters from the finish line.
The French government last week also alleged that Mr. ElBaradei abetted Iran's pursuit of a nuke by withholding evidence of Iran's second nuclear plant from European negotiators engaged in multi-party talks aimed at curbing Iran's arms program.
By contrast to his frequent charges against Israel -- he also rebuked it in 2007 for bombing a Syrian reactor, but never once criticized Damascus for building the plant in secret (just another friend that's why ~ Norm) -- the worst Mr. ElBaradei has ever managed to say about Iran was a convoluted admission last year that it had failed to "provide credible assurance about the absence of undeclared nuclear material and activities."
In a job that requires inscrutable objectivity, Mr. ElBaradei has never tried very hard to contain his prejudices. The world is better off with him retired.
National Post
Israel is a threat but Iran...yeah, Iran is just a lot of hype! (Here we go with more excuses for Iran.)
ElBaradei calls Iranian threat 'hyped'
Mohamed ElBaradei, outgoing chief of the International Atomic Energy Agency, has called the Iranian threat "hyped," saying there is no proof the Islamic republic will soon have nuclear weapons.
"In many ways, I think the threat has been hyped," ElBaradei told the Bulletin of the Atomic Scientists in an interview released Tuesday.
"Yes, there's concern about Iran's future intentions and Iran needs to be more transparent with the IAEA and international community," he told the Chicago-based magazine. "But the idea that we'll wake up tomorrow and Iran will have a nuclear weapon is an idea that isn't supported by the facts as we have seen them so far."
"About Iran, I've been told, 'Mind your own business; you're a technician.' And yet, at other times, on other matters, I have been told that I'm the custodian of the nuclear Non-Proliferation Treaty - sometimes by the very people who tell me to mind my own business when it comes to Iran," he continued.
"I don't put much stock in either designation. I'm neither a custodian nor a technician; I'm merely someone who is trying to do his job," he said.
On Sunday, government officials said that Israel wants the IAEA to release a classified report on Iran's alleged nuclear weapons experiments, following Friday's release of an IAEA report that was welcomed by Teheran as "positive."
Although the report said that Iran was stonewalling about "possible military dimensions" to its nuclear program, the report was far less critical of Teheran than Israel would have liked.
According to government officials, the IAEA has another document which is a summary of everything the agency knows about Iran's nuclear program, which has remained classified. Israel is keen on getting that document released, but has limited leverage since it is not a member of the IAEA.
ElBaradei did not agree to release the document, and the decision to do so will now go to his successor, Japan's Yukiya Amano, due to take office on December 1.
In July, Israel privately heaved a sigh of relief at the election of Amano to replace ElBaradei.
While officially Israel had no comment on the development, privately, government sources said Amano was Israel's preferred candidate.
"We hope now that our relationship with the IAEA will be less tense, that the unnecessary friction with the IAEA will disappear, and that we can return to full cooperation," one government source said.
He also said the expectation in Jerusalem was that Amano would be more "neutral" than ElBaradei when it came to Israel's concerns.
Enough about this jerk...why did I waste so much space?