...just a little corruption, Russian Style
I once had a small business and also dabbled in the stock market all the while worried about the future of my investments. Grant it my investments were but pennies compared to William Browder's multi-faceted conglomerates and the worries of losing it all were not comparable to Mr. Browder's nightmare. It must have been a nightmare, you can't dream up stories like this one...incredible! ~
Storm'n Norm'n
REAL LIFE RUSSIAN THRILLER [
Source
CNN
]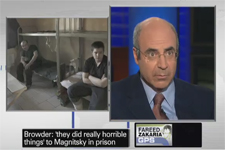 It's the story that reads like a Hollywood movie -- the only catch is that it's real life.
The amazing tale of William Browder, once the largest foreign investor in Russia. His money made him a target and someone close to him paid the ultimate price.

Watch as Browder speaks candidly about the corruption that lead to him leaving Russia and the tragic loss of his lawyer Sergey Magnitsky.