Johns Love Barack
Chicago prostitution sting nets second man wearing Obama t-shirt
Memo to Barack Obama supporters everywhere: If you plan on soliciting some sexual favors from a prostitute, perhaps you should leave your t-shirt promoting the Democrat's presidential campaign at home. For the s
econd time in recent weeks, a Chicago man has been nabbed on a misdemeanor rap for soliciting sex from an undercover officer while promoting the hometown pol's White House bid. Sherman Cleveland, 40, was arrested last week and had his car impounded after he allegedly offered a female police officer money if she'd perform a sex act upon him, according to Officer Laura Kubiak, a Chicago Police Department spokesperson. As seen in the mug shot below, Cleveland was wearing a shirt with the words "Obama For Change" and a caricature of the presumptive Democratic nominee. Previously, a Chicago man with a "Barack" t-shirt was arrested on a similar solicitation charge.
Let's see... What do all these Mugshots have in common?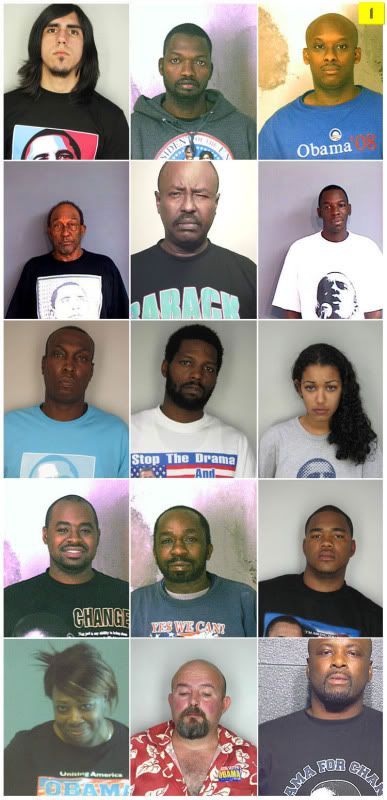 And we all voted for our friend who will spread the wealth around!